1. Chemical name: 4-Amino-N-(tert-butyl)-3-isopropyl-5-oxo-4,5-dihydro-1H-1,2,4-triazole-1-carboxamide
2. Generic name: Amika zone
3. CAS number: 129909-90-6
4. Molecular formula: C10H19N5O2
5. Molecular weight: 241.29
6. Form: colorless crystal
7. Structural formula: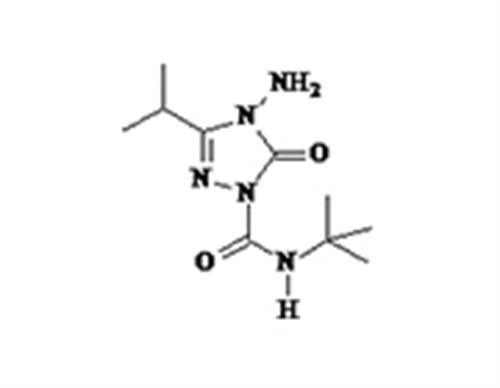 8. Purity: ≥97%
9. Packing: 25kg drum
10. Uses: 98% TC high-efficiency insecticide Mifenoxan is an inhibitor of photosynthesis. It is a typical symptom of greening and cessation of growth of sensitive plants, showing brown tissues until the final death, and other photosynthesis inhibitors ( Such as triazine herbicide) cross-resistance. Roots and leaves absorb.